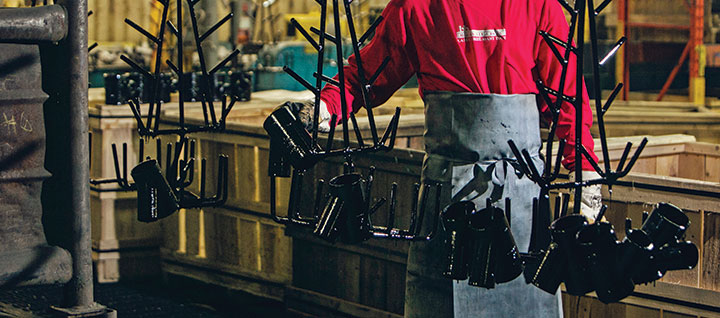 Coldbox Molding
This process consists of a coldbox molding system (chemically bonded sand). The sand is mixed with a resin-catalyst system using a Kloster Quick Loop continuous high-speed mixer, after which the chemical sand is distributed in molding boxes and compacted by vibration to allow the pattern to imprint. Fifteen-hundred pounds of metal per mold can be cast through this process. According to the cooling time and complexity of the castings being produced (number of cores), five to 20 runs can be carried out per shift.
Equipment
Kloster Quick Loop for sizes 60" X 70"–16"/16"
1,500 lbs / mold capacity
Maximum of 20 runs / shift
Production lead time: three to four weeks
Core room department
The core making process consists in a mass being introduced into the mold to form an internal cavity of the casting. The equipment used at Bibby-Ste-Croix assures an overall precision and consistency in both small and large quantities, in a timely manner without any mechanical or physical interruptions.
Equipment
20 core-making machines (hot box) (B&P, Shalco, Cooper, Chapman and Eurocore)
Kloster 1,000 for furan type cores