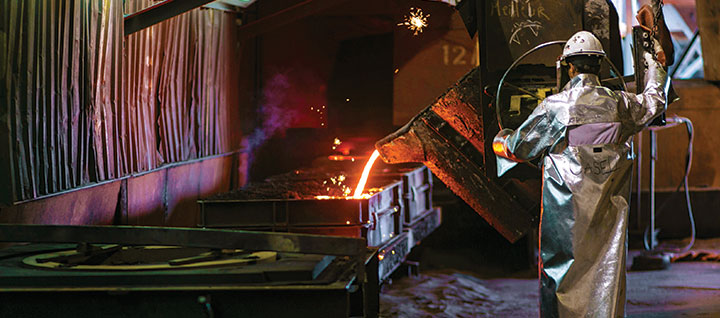 Quality Control
To ensure the quality of the castings, numerous tests are carried out before and after production. Quality control is of the highest importance to our team and the reason behind our ISO 9001:2008 certification. There are two laboratories on site, one monitors the sand while the other performs metallurgical tests. A complete evaluation of the finished products is also performed.
Monitoring of grey cast iron
At the cupola, thermal analysis is performed every 20 minutes
Destructive and non-destructive tests are performed every hour on the samples of the two holding furnaces.
Monitoring of ductile cast iron
Tests are performed on each batch
Chemical analysis before pouring and after magnesium treatment magnesium
Monitoring of mechanical properties (UTS, yield, elongation, hardness) 
Equipment
Monitoring of sand
Fully equipped sand laboratory to monitor the following parameters:
Moisture, tensile strength, permeability, mechanical strengths, active clay, buffer materials, particle size, fineness, specimen mass and loss of heat.
Olsen Tinius traction machine 60,000 lbf super "L"
Portable hardness tester PHT-1800
Ultrasound Oympus EPOCH 600
Quick-lab datacast entouch
Sandblasting and polishers
Brinnel and tensile testing
ARL-3460 spectrometer
Quick-Lab Datacast Entouch
Microscopic analysis
Additional testings when required