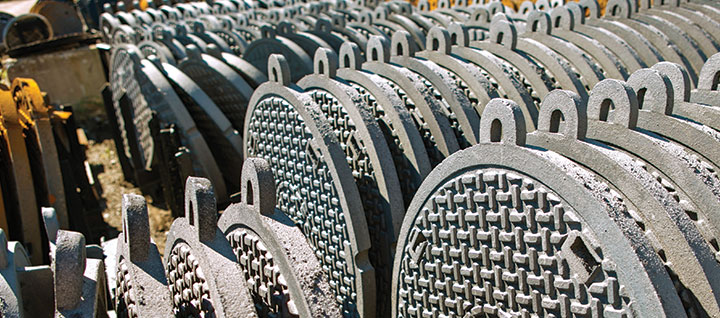 Green Sand Molding & Pattern Shop
Green sand molding
A mix of sand with a balanced ratio of clay and water. Particular attention is given to processing the sand, making a difference in the quality. The sand is reprocessed for environmental protection purposes.
Equipment:
Disamatic 140-B - new equipment installed in 2016
Vertical molds allow better surface finish
Dimensions: 23.5" X 30" , 7" / 7"
Osborn
For the production of over sized castings of extreme weight
Dimensions: 36" X 35" , 9" / 9"
Pattern shop department
Pattern making is a production services department.
In-house department for the maintenance and repair of the wooden, aluminum or plastic patterns for the production of castings.
The department supplies all molding systems for the plant.
About 40 different patterns are used each day.
For faster service, close to 3,500 patterns are stored on site.
Continuous maintenance program: each pattern is inspected and tested prior to production and following its use.
Computer management of priorities (ERP).
The production of new patterns is outsourced: various sub-contractors located close to our facilities produce new patterns according to your specifications.
Allow seven to eight weeks for the production of a new pattern.